On March 11, 2021, President Biden signed the American Rescue Plan Act of 2021 (H.R. 1319) into law. The $1.9 trillion package, based on President Biden's American Rescue Plan, is intended to combat the COVID-19 pandemic, including the public health and economic impacts. APRA provides one-time funding (H8F) for a 2-year period of performance to support health centers funded under the Health Center Program to prevent, mitigate, and respond to coronavirus disease 2019 (COVID-19) and to enhance health care services and infrastructure.
HRSA provided approximately $6.1 billion to Health Center Program award recipients. Each H8F award was calculated using the following formula:
Base value of $500,000 plus
$125 per patient reported in the 2019 Uniform Data System (UDS), plus
$250 per uninsured patient reported in the 2019 UDS
Great! Now what?
How To Use Your APRA Funds
You need a partner who can help make your ARPA funding achieve your COVID-19 outreach and education initiatives while preparing your organization for post-pandemic needs. The knee-jerk reaction is to start allocating funds to tactics to make sure they are earmarked for COVID-19 related projects. But are those tactics the right tactics? At PANO, we believe strategies come before tactics. We know how to develop strategies that will make your ARPA funding stimulate growth throughout your FQHC to increase patient encounters over the next 2 years — and most importantly — how to retain those patients.
Strategies Come First
Every Federally Qualified Health Center is different, and so are your FQHCs needs. There is no one-size-fits-all solution, but there are goals consistent across all FQHCs during COVID-19 such as…
Increasing Patient Encounters
Attracting New Patients
Patient Retention
Providing COVID-19 Vaccine Info To Communities
Providing COVID-19 Vaccines To Communities
Providing Resources To Disenfranchised Populations
Increasing Outreach Initiatives
Meeting UDS Requirements
Continuing Non-Covid Services
PANO can help you identify strategies, budget allocation of your ARPA funds, and implement strategies to meet your initiatives. We understand FQHCs because we're an FQHC-focused company with a history rooted in FQHC management. We are a HIPAA-compliant outsourced marketing company with a proven track record.
Tactics Come After Strategies
As we said, there is no one-size-fits-all solution. Some of the tactics we are implementing with success for our clients include…
Traditional Media Campaigns
Non-Traditional Media Campaigns
SEO & SEM Solutions
Organic Social Media Management
Social Media Ads
Online Display
Online Search
Online Ad Words
Google Ad Grants
Community Outreach Tools
Mailers & EDDM
Wayfinding & Signage
Branding & Nomenclature
Content Production
Budget Management
User Experience (UX)
Web Development
…and more!
Book A Meeting With PANO
We would love to meet you and learn about your FQHC and it's needs. There is no cost to meet or explore what a relationship with PANO could look like. We believe in the power of "Why?" We want to dig in and truly understand the challenges you are facing, your goals, and then help create a roadmap to achieve your initiatives. Contact us today to set up a meeting.
Why Do We Represent FQHCs?
PANO's President & CEO, Ryan Gates, is passionate about community health centers. In the 1990's, a group of concerned citizens in Wichita, KS recognized the need to address the disproportionate rates of illnesses affecting individuals in the local community. When Ryan's father (Bud) partnered with the Black Nurses Association, they raised the funding needed to open The Center For Health & Wellness in 1998. Ryan spent many of his days and nights volunteering at the community clinic, working with staff, meeting patients, and becoming knowledgeable in the world of nonprofit healthcare.
Ryan later became a consumer of FQHCs and witnessed firsthand how the services work, how important they are, and why it is important to help community health centers thrive. He received quality care from many FQ's, was able to afford care through sliding scale fees when times were tough, and later was able to be a full-paying patient when times became good. He has used the tools, experienced the issues that need to be fixed, and seen the opportunities to do things in new and unique ways.
In 2010 he rejoined The Center For Health & Wellness as a consumer board member and got to work rebranding the clinic to HealthCore Clinic as it expanded its services to become a Patient Center Medical Home (PCMH). The clinic expanded from 5,000 sq/ft to 45,500 sq/ft and now offers Medical, Dental, Behavioral Health, Pharmacy, and more — all under one roof. He helped expand their outreach with the development of a mobile clinic, increased community outreach, and innovative marketing solutions. As his work became known in the region, more health centers began asking for his insight and help.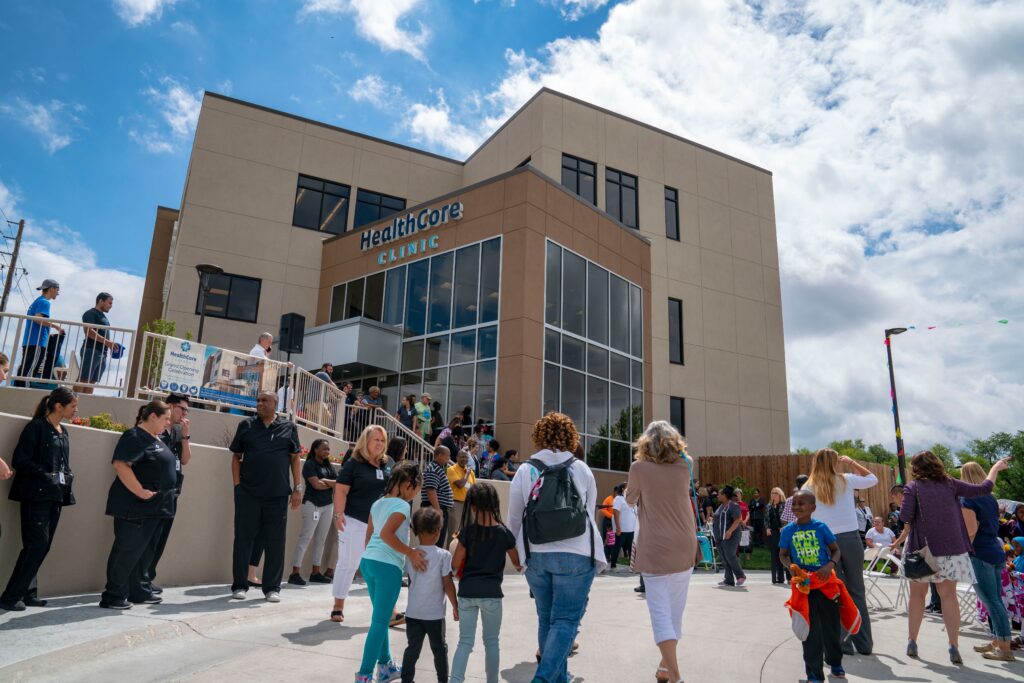 Today, as the President & CEO of PANO, Ryan is able to help even more clinics by providing a wide array of services at a discounted rate. He and his family are still patients of HealthCore Clinic in Wichita, KS and Hudson Headwaters in Upstate New York. If you are going to help FQHCs succeed, we believe you should be a consumer of FQHC services as well.